If you are heading to Stoke On Trent anytime soon, then Ms Sera Berns has something special on offer. This lady believes in Female Supremacy. So, to her Men are only here to serve and provide entertainment for the superior sex. She does not hold back and will break you down to build you up into a perfect pet. Those looking for a true D/s relationship will find synergy.
Sadistic Mistress: Would You kindly tell us a little about your background and how you became involved in Domination?
Ms Sera Berns: Gladly, I am a natural-born Domme. I was a tomboy growing up, so I've been beating up boys for as long as I can remember ? I recall being in primary school, maybe 6 or 7 and I would convince the younger boys to try to kiss my friend Gary. I was into forced bi and humiliation even way back when, but I just didn't know it. When I was 13 I got my hands on a Bizarre magazine. Inside was an article about a professional Dominatrix and it changed my life! I was in awe of this strong powerful woman, getting paid to beat and humiliate men. I decided then and there, that's what I wanted to be when I grew up. I experimented with edge play throughout my teen years with friends and learned quickly that I have a really high pain tolerance but not a submissive bone in my body. I started attending fetish parties a bit before I turned 18 with my boyfriend, a masochist. I would pass him around to other girls so I could watch and learn……but it wasn't enough. Luckily I found a FemDom dungeon the next town over. They had multiple themed rooms, 2 main dungeon areas a patio and they broadcast live to their website 14hrs a day plus they were hiring! I interviewed on Friday, attended a fetish party there on Saturday "to see if I was a right fit" and started on Monday…..the rest I guess you can say is history.
Sadistic Mistress: What advice would you give to slaves who wish to serve you?
Ms Sera Berns: Make sure you are clean and that you don't smell bad! There is nothing worse than a stinky slave. If you don't want to spend your session being humiliated and scrubbed with my toilet brush, you will make sure you arrive extra clean. Take 2 showers if you have any doubts!
Sadistic Mistress: Will you work from a script that someone brings to you when they meet with you?
Ms Sera Berns: Generally no. It all depends on how detailed the script is. I once had someone who wanted a kidnapping and interrogation scene and he created a whole binder for it that was thicker than most textbooks. I just couldn't get into it. I'm not an actress. I never really plan a session. I have an idea of what someone is into and I just let things naturally evolve depending on our chemistry and how I'm feeling that day, taking into account their limits and boundaries. A script doesn't leave room for creativity and I get sparks and flashes of creativity all the time while playing. Why would I want to cage myself with a script? That being said, if someone came to me with an outline, I could work with that. I'm always willing to listen to ideas and suggestions for sessions, as I'd love to experience something I haven't done before. I just have to be my true self.
Sadistic Mistress: What are your favourite types of sessions?
Ms Sera Berns: I love so many different types of play. I trained as a body piercer, so I really enjoy needle play, I also lived with a crossdresser for 2yrs so I love sissification and having "girl time" teasing, denial and orgasm control is lots of fun! So is CBT……. and public humiliation!
Sadistic Mistress: Do you attend any clubs relating to BDSM/Fetish lifestyle?
Ms Sera Berns: I just recently moved back to the UK after spending 30 years in Florida (yes I sound like a yank) and with covid having everything shut down I have yet to experience BDSM events here in the UK. Although I used to frequent the fetish factory parties back in Florida. I will start to attend the fetish events at Evolution here in Stoke on Trent as well as anything else that might pop up that I can get to in the future.
Sadistic Mistress: What do you prefer to wear during sessions and what do most subs prefer to see you wear?
Ms Sera Berns: It really depends on My mood. Some days you will catch Me in a leather corset, tutu, fishnets and boots, some I might be dressed in a business suit or a flowing silk dress, or a men's dress shirt. I don't like to pigeonhole myself. My look is always changing. You never know what colour or length my hair will be, just like you never know how I will be dressed. That's what's great about me I'm predictably unpredictable.
Sadistic Mistress: How would you describe your style of dominance?
Ms Sera Berns: Playful and sadistic. I know I may look sweet and innocent, but trust me looks are deceptive! I love to play off my cute look and shock people with my wicked ways. They never see me coming.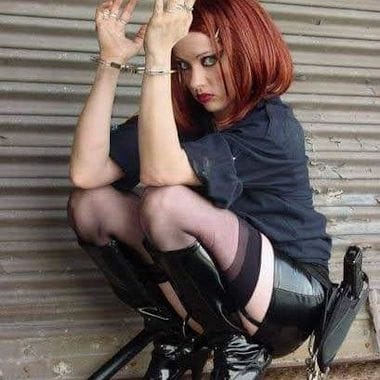 Sadistic Mistress: Do you also offer other services such as phone domination, email/online, training?
Ms Sera Berns: I do, although I prefer face to face sessions. I love personal interactions and reactions that you can't experience through the phone or computer
Sadistic Mistress: What are the things You most like and dislike in a slave?
Ms Sera Berns: I hate when someone doesn't give you any reactions or feedback while you are playing. We had one guy that came to the dungeon regularly and he tipped well and everything but all the girls would fight about not taking him because no matter what you did to him he never responded either way. He showed no emotion whatsoever. It was like playing with a dead guy. I want to see you enjoying yourself or I want to see you in agony.
Question: What song do you listen to that makes you feel strong?
Ms Sera Berns: Anything of Recoils Liquid album
Sadistic Mistress: What are Your favourite gifts from a slave?
Ms Sera Berns: Honestly I appreciate any gifts I am sent, especially if someone goes away from my wishlist and gets me something I still love. It shows that they get me.
Sadistic Mistress: What advice would you give to a novice who has never visited a Mistress before?
Ms Sera Berns: Have an open mind. Don't expect it to be like the fantasy you have in your head, or likely you will be disappointed. We don't mind readers so don't know what your fantasies are and likely won't turn them into reality anyway. Just tell your Domme as much information as possible, don't forget to include any health problems or phobias…. something as small as hypoglycemia is important to know. Let her know if you can have marks or not, establish a safe word, then relax, let go and let her do the rest!
Sadistic Mistress: Would you ever session without a safe word?
Ms Sera Berns: I have before, but only with subs I have a prior relationship with
Sadistic Mistress: Do You own any 24/7 slaves?
Ms Sera Berns: Not at the moment, but I would consider it if I found the right person. Right now I'm enjoying my solitude.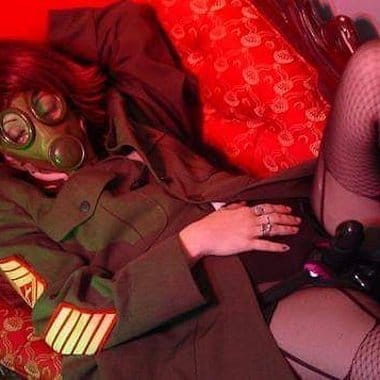 Sadistic Mistress: What about those slaves looking for a long term serious commitment of slavery to You. What would be Your requirements of such a slave?
Ms Sera Berns: Chemistry is the most important thing! An open mind, very few limits, free time to serve, and the willingness to spoil me!
Sadistic Mistress: How do you make use of Social Media or is it something you don't have time for?
Ms Sera Berns: I dabble with social media when I have the time. I'm not an online Domme really and don't do much FinDom so my online presence isn't what it could be
Sadistic Mistress: How can someone find more details about you and how to serve you?
Ms Sera Berns: I have my own website and free fetish community for anyone to join
View Her Sadistic Mistress Profile
Ms Sera Berns website
https://msseraberns.wixsite.com/msserasdungeon-1